Project Director, eCOMPAS Special Projects of National Significance, RDE Systems, LLC
Do More With Less
Grantees, providers, and clients alike are all facing daunting challenges of having to "do more with less." Identifying and utilizing tools that can save time, reduce errors, and provide higher quality care are important strategies for those who care for the most vulnerable and underserved people living with HIV/AIDS (PLWHA). 
One such tool having demonstrated significant quality of care receipt and improved health outcomes among Ryan White HIV/AIDS Program patients is called eCOMPAS, or Electronic Comprehensive Outcomes Measurement Program for Accountability and Success.
From work born out of eCOMPAS comes a free online tool available to all case managers as well as PLWHA who require HOPWA (Housing Opportunities for Persons with AIDS) services or Section 8 programs to find stable housing.
Connecting PLWHA to Stable Housing: A Challenge
The adage "Housing is healthcare" has been echoed for years, and this idea is underscored in the U.S. National HIV/AIDS Strategy Operational Plan. Unstably housed HIV-positive individuals face engagement and retention in care challenges and, subsequently, their health often suffers. Helping to address this issue is the Health Resources and Services Administration (HRSA) Special Projects of National Significance (SPNS) Building a Medical Home for Multiply Diagnosed HIV-Positive Homeless Populations. The Affordable Care Act will also play an integral role in helping prevent and address homelessness, particularly for PLWHA; however, this is not an easy challenge to overcome.
For example, case managers connecting these unstably housed and homeless PLWHA must navigate a complex process of calculating gross household income, deductions and allowances, earned income disregard, adjusted income, utilities, and tenant rent payments – a process more akin to doing complicated taxes, but essential for program integrity.
Too often this process is not standardized, prone to error, and the source of much client consternation; altogether creating significant headaches—and liabilities—for grantees and providers. 
A Standardized, National Solution
The largest HIV housing program in the country, the New York City Department of Health and Mental Hygiene's HIV Housing program (funded by HUD, HRSA, and other sources), worked with RDE Systems to automate and standardize their housing calculation process in the eCOMPAS web-based system.
A private version that pulled data from client records in the NYC eCOMPAS system was built in parallel to a public version that clients and other providers in New York City could use as well.  After much demonstrated success, RDE Systems went one step further, launching a public version available to the rest of the country.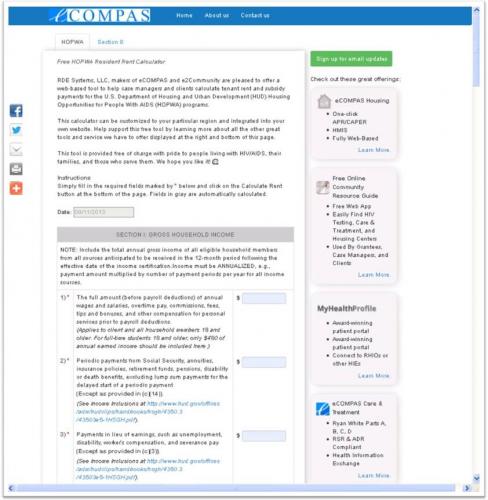 Outcomes To Date
Pamela Farquhar, MPA, NYC HOPWA Administrator, says "…the system is able to auto-populate fields and auto-calculate data as the user moves through each section….it's phenomenal! Users also have access to HUD's policy guidance regarding household income inclusions and exclusions at their fingertips without having to search elsewhere for this information. We're very excited to bring this new technology to our contractors…it's a win, win for everyone!"
Since launching the tool at the United States Conference on AIDS (USCA) in September 2013, over 150 users across 23 States accessed the FreeRentCalculator.com service, showing how one local effort can result in a national impact.
To access this, simply go to www.FreeRentCalculator.com to view the instructions, fill out the form, and receive all the necessary calculations.  Please feel free to share this resource with regions, grantees, providers, and clients.  Special thanks to RDE Systems for committing to maintaining this resource for the community for free.
Do you, or the regions and providers you serve, have any use for such a tool?  Feel free to share your experience and thoughts in the comments.  If you have an idea you'd like to see implemented, submit it here.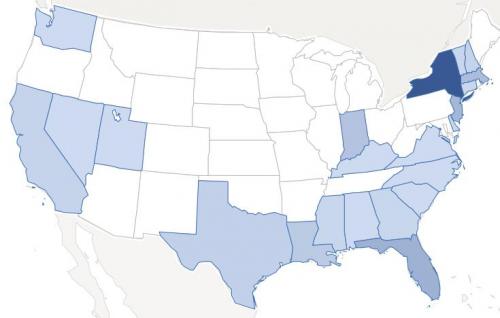 About eCOMPAS
eCOMPAS is a web-based client-centric tool developed with clinicians, case managers, and other front-line staff in use for a decade by thousands of users and having a broad impact across the country for those who serve the most vulnerable PLWHA. In addition to saving thousands of hours each year better spent on client care, findings published in the International Journal of Medical Informatics showed eCOMPAS contributed significantly to the improvement of CD4 screening rates by 43%; appropriate use of HAART by 28%; increase in medical visits by 44%, increase in syphilis screening by 105%. These improvements in care then contributed to a community viral load suppression rate of 38.6%.