The Centers for Disease Control and Prevention reports that by 2015, 50% of people living with HIV/AIDS will be over the age of fifty. This represents some good news (those infected earlier in their lifespan are living longer), but also some bad news (those over 50 are acquiring new HIV infections). In light of the trend with this demographic, the New England AIDS Education and Training Center has partnered with the New England Association on HIV Over Fifty (NEAHOF), to co-sponsor an annual HIV and Aging Update, as well as co-facilitate outreach to those care providers who will be involved. The latest AIDS diagnosis by age statistics available from the CDC is from 2010. The following chart shows national age distribution at diagnosis: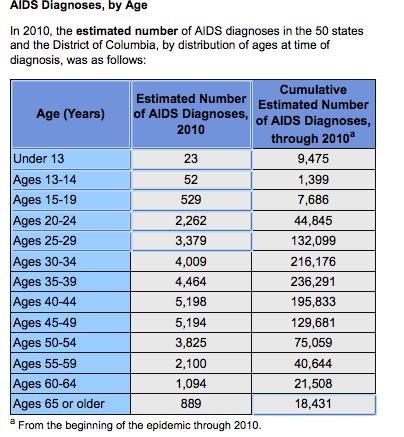 There are many complex issues regarding the prevention, care, and treatment for those in this cohort. Epidemiologically, we know that many seniors are unaware of HIV risk factors. Many seniors aren't diagnosed with an HIV infection until they are hospitalized with a full-blown AIDS infection. This is due to a lack of screening in the older population. Because of that late diagnosis, morbidity and mortality are both increased. There are few, if any, prevention programs targeted to seniors. There is an increase in unprotected sex in seniors, and an increase in overall sexual activity, both due to the increasing number of newly single seniors, and the concomitant use of erectile dysfunction drugs such as Viagra.
We also know that the aging process is associated with many non-HIV problems, including cardiovascular, renal, metabolic, and other diseases. These may often be worsened by HIV directly, and also may be adversely affected by some of the medications that are used to treat the virus. Older patients are often on many prescription medications, and juggling the drug-drug interactions and side effects can be tricky, even for an experienced provider.
There also is evidence that the innate function of the immune system declines with age, and there is increasing consensus that the threshold for starting a combination of antiretroviral drugs (ARVs) should be started earlier than in younger patients. Most providers are now starting their over-fifty patients on ARVs regardless of their CD4 (T-cell) levels, as it is felt that aging T-cells are not as functionally competent.
There will be a gradual influx of HIV/AIDS patients into chronic care and assisted living facilities over the next few years. We will be combining an educational outreach program with our NEAHOF colleagues to develop a curriculum for those facilities.
Recent testing guidelines from the CDC have been modified, but still only recommend testing up till age 64. We are partnering in a lobbying effort to increase screening HIV testing to all at risk, regardless of age. For the past seven years, the United States has declared a "National HIV/AIDS and Aging Awareness Day". We try to coordinate our annual NEAHOF co-sponsored conference around this time.
Because of the recent increase in diagnosis of concomitant Hepatitis C, especially in the aging population who may have been exposed to the HepC virus during their younger days, we are trying to promote Hepatitis C screening along with HIV screening.  The Centers for Disease Control has suggested a one time HepC test for "boomers" born between 1945 and 1966. We are publicizing that guideline in all our information sessions. We also distribute testing information in all of our activities, and promote testing on our websites.
Readers, what are you doing to increase HIV testing among the aging population in your region or at your program?  Please let me know what you think about all this.