Program Coordinator Dakota AETC
Charlotte Lowman's work with the Native American population began while working in the infectious disease division at the University of South Dakota School of Medicine; eleven years ago she joined the Dakota AETC as the LPS program coordinator. The Dakota AETC is the only LPS that serves two states - enduring the challenges of training North and South Dakota healthcare professionals with limited staff and resources, and lack of funding; however, in a conversation with Ms. Lowman we learn that the rewards and success of contributing to the increased quality of HIV care for Native Americans on the Dakota reservations, and others, far outweigh the challenges.  In honor of National Native HIV/AIDS Awareness Day, we asked Ms. Lowman to share more about her experiences working with the Native population, and highlight some of the ongoing efforts at the Dakota AETC:
"At the Dakota AETC, we have a lot of ground to cover with limited staff and resources. Our LPS employs one full-time program coordinator, two part-time coordinators, a part-time medical director in North Dakota and our part-time PI covers both states and is also the medical director in South D. Native Americans make up approximately 9% of the South Dakota population and 5% of the North Dakota population.  Both North and South Dakota are very rural, and many of the locations where we travel are up to seven hours away – in one direction - from our home base.   There is limited interstate travel to the reservations, as well as, few hotels and restaurants, not to mention our severe winters.  Due to the remoteness of our Native American population, we decided to provide a monthly teleconference on HIV/AIDS and related health issues within the Dakotas.  This began about two and one half years ago. The teleconferences are provided in collaboration with the Community HealthCare Association of the Dakotas and are open to anyone involved in healthcare in the Dakotas, including mental health providers and case managers. We utilize speakers from within the Mountain Plains AETC region and throughout the U.S. as well. Because the Dakota AETC covers two time zones, not everyone is able to attend during our 12:00 - 1:00 CST time slot; therefore, we record the teleconferences which allows us to email the link or burn a CD and mail it to those who could not attend.  Currently gonorrhea, chlamydia, syphilis and HIV rates are increasing, therefore, these are some of the topics that we will be addressing during our teleconferences in 2013."
When asked why the increase in STI rates and what other challenges they face, Lowman cited:
"There is a lot of poverty on the reservations. Domestic violence and suicide rates are high as well. Along with the hopelessness and stigma that may prevent folks from seeking care, there is a lack of medical staff with the knowledge to treat HIV, as there are no infectious disease physicians on any of the reservations. Additionally, there is a large turnover of medical providers on the reservations and in surrounding areas, so continuity of care is often compromised.  We are currently mentoring nurse practitioners and/or physician assistants at some South Dakota sites on how to manage HIV treatment, in collaboration with off-site infectious diseases specialists. We also encourage providers to attend the HIV Clinical Training Program provided by Mountain Plains AETC. Another challenge in South Dakota is that we currently have a waiting list for patients to receive medications through the AIDS Drug Assistance Program (ADAP).  Therefore, we are working with sites to education them on alternative medication funding sources to assist with maintaining HIV infected people in care."
When asked how they are able to address these issues, she responded:
"Dakota AETC works closely with the HIV Coordinator from Aberdeen Area IHS who keeps us informed of the training needs on our reservations. As new rapid HIV and Hepatitis C tests were developed, we conducted numerous trainings on most of our reservations on how to use these tests.  As a result, we are seeing an increase in the number of Native American patients who are being screened for HIV.    We are planning to continue this training in 2013 to further expand the HIV screening. And, as a result of our trainings, the Native American Dental Clinic in Rapid City, South Dakota will soon implement HIV testing as a regular practice."
I asked Lowman how she plans to prepare providers in her jurisdiction for implementation of the Patient Protection and Affor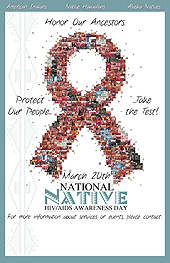 dable Care Act. With enthusiasm she replied that the topic for this month's teleconference is on the Affordable Care Act, presented by Dr. Donna Sweet, Principal Investigator of the Kansas AETC and Director and Professor of Internal Medicine at University of Kansas School of Medicine – Wichita. Conference recording will be made available after the event.* At the close of our conversation, Lowman mentioned that reservations are not limited to the Mountain Plains region, but because of the vast distances of the reservations from major highways, and other barriers, many providers are not well informed about the needs of the Native population on reservations in their state.  I asked if she had any parting questions for our readers. She replied,
"How much do you know about the reservations in your state?"
*Please contact Charlotte Lowman at clowman@usd.edu for more information on the ACA teleconference.