Image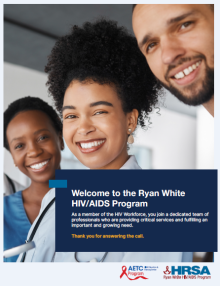 The Ryan White HIV/AIDS Program (RWHAP) Welcome Kit is for healthcare providers, clinics, and programs that are new to the RWHAP. It is designed to increase awareness about the offerings of its clinical training component, the AIDS Education and Training Center (AETC) Program, and includes information to help orient new grantees to the program's history, mission, services, and training resources for capacity-building support.
The Welcome Kit is a 10-page color brochure that provides information about the AETC Program's regional and national centers and projects, training and technical assistance services, conferences and continuing education opportunities, and more. It includes quick links for easy navigation to important information on this website, which may be helpful for new RWHAP grantees and AETC Program website users.
Consider adding this kit to your onboarding and orientation materials or offer it as a handout during in-person training or meetings with grant recipients. The kit can be shared digitally and/or printed on demand.
Preview and Download
Browse more