Addressing the Gaps in the HIV Care Continuum for Women with HIV and their Partners: Recommendations for the National HIV/AIDS Strategy
Annual meetings of the Centers for Disease Control and Prevention (CDC)-sponsored Elimination of Mother-to-Child Transmission of HIV (EMCT) Stakeholders Group and the Expert Panel on Reproductive Health and Preconception Care for People with HIV, held at the Washington, D.C. headquarters of the American College of Obstetrics and Gynecology (ACOG) the week of May 25th, 2015, provided an exciting and energizing opportunity to discuss challenging clinical and policy issues.
The Expert Panel and Stakeholders Group are invitational working groups, each consisting of about 50 HIV experts with representatives from governmental agencies— National Institutes of Health, CDC, Health Resources & Services Administration, and Office of Population Affairs; academic institutions; state health departments; national professional organizations; and the community. The Expert Panel and Stakeholders Group work to develop and implement strategies to support access to quality family planning, reproductive health and preconception care services for U.S. men and women with HIV infection and to support the national goal of elimination of perinatal HIV transmission.
At this year's meeting, the groups focused on the following three primary areas:
Developing strategies to improve the coordination of mental health and substance use services for women with HIV, especially in the perinatal period.
Identifying models of implementation and best practices for delivering reproductive health and preconception care services in HIV care settings. 
Discussing and assessing experiences of delivering pre-exposure prophylaxis (PrEP) services for women. 
Presentations and contributions from members of the newly formed Community Advisory Group offered new insights and added valuable dimensions to the discussion.
Pairing presentations and dynamic group discussions, the groups shared many new ideas and came to consensus in identifying priority activities and outlining recommendations to inform national policy. After the meeting, policy recommendations related to addressing gaps in the HIV care continuum for women with HIV and their partners were outlined in a letter to the Office of National AIDS Policy (ONAP) for consideration in updating the U.S. National HIV/AIDS Strategy.
The meeting provided opportunities for networking with longstanding and new colleagues and supported effective communication and coordination related to perinatal prevention and improving reproductive health care, closing gaps in the HIV care continuum.  These two CDC-sponsored groups serve as a model of national program coordination and collaboration to support the prevention of HIV infection and improve health care access and outcomes for people with HIV.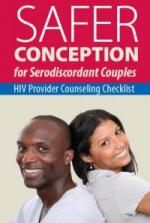 Visit www.womenandhiv.org for reproductive health, preconception care, and perinatal HIV prevention resources and training materials.