HIV Telehealth Education for Providers in Rural and Medically Underserved Areas of Kentucky
Rural Kentucky often evokes images of poverty and despair. While reaching out to providers in this area, SCAETTC (Southern Central AIDS Education Telehealth Training Center) can attest that poverty and limited resources are real and must be addressed.  Disparities within this area remain unnoticed and the majority of Kentucky's Appalachian counties are designated as medically underserved. According to the Kentucky Cabinet for Health and Family Services Surveillance Report, "Kentucky's distribution of HIV cases by sex and age at diagnosis closely parallels that of the U.S." There were 377 new HIV infections diagnosed in 2012 with 83% in males and MSM identified as the route of transmission in 50%.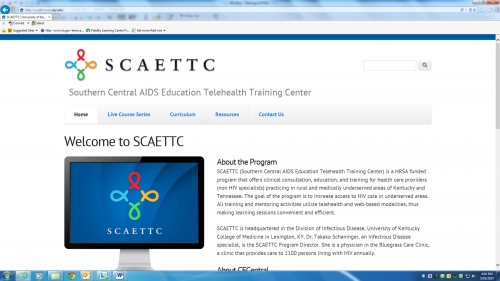 During the past three years SCAETTC has worked to expand access to HIV care in rural Kentucky through telehealth technology focused educational programs. Our group has reached out to providers in these areas who have expressed an interest in delivering comprehensive care to persons living with HIV (PLWH).  The providers who have become part of the SCAETTC program include physicians (family medicine, internal medicine, and infectious disease specialists who are practicing primary care), nurse practitioners, and physician assistants that  have as few as one and as many as 25 clients with HIV infection. Two times per month the providers participate in live educational telehealth sessions, typically on a SCAETTC supplied iPad, through Kentucky Telecare. Kentucky Telecare is part of the Kentucky Telehealth Network which has videoconferencing sites in health care facilities throughout Kentucky and their programs can also be accessed via tablets and desktop/laptop computers.  This venue enables participants to interact with the presenters. The SCAETTC Program Director has also been available for teleconsultations if the provider experiences some questions that require more expertise than they have developed from participation in the session.  We also noted that sometimes providers seemed to not want to take that first step of providing comprehensive care to PLWH. To calm their concerns, we developed a 'Virtual Clinic" where, in compliance with privacy guidelines, a provider could view an actual interaction of a PLWH and a Ryan White funded provider at the Bluegrass Care Clinic-University of Kentucky.  If the client agreed, the remote participant provider was allowed to ask questions and feel like an active participant in the clinic visit. Similar to the telehealth educational programs, the virtual clinic was conducted on the provider's iPad via Kentucky Telecare with secure Polycom software.
While we have experienced successes, we have also experienced limitations that we have had to address.  Probably the most ongoing issue is that the internet connections in rural area are not always as robust as needed to avoid pixelating on participant images and delays in voice transmission. For example, we have one provider who cannot receive both audio and video at the same time; it's one or the other.  We have developed ways to circumvent these issues including providing a conference call line such that the program can always be heard  through a phone line and also providing the PowerPoint of the presentation so that participants can follow along in case they lose the video.  We also provide a contact cell phone and email address that can be accessed during the presentation for those participants who experience access issues during the Q and A sessions.
Thanks to motivated participants who were willing to work together with us to resolve access limitations, SCAETTC has been able to contribute to the expansion of access to HIV care in rural and medically underserved area of Kentucky. Our efforts resulted in the expansion of care at a critical time when a provider caring for over 100 PLWH left Kentucky.  As one of the SCAETTC participants stated, "(the program) was very useful and effective, up to date and went over challenges we face in real practice."  
Jeanne Harris is no longer active in the AETC community.
Browse more by: