The HIV/AIDS Treatment Cascade in the U.S. Virgin Islands: Testing and Diagnosis in Paradise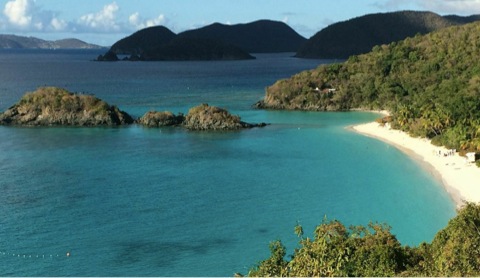 Quite often when you think about the U.S. Virgin Islands (USVI), you envision a beautiful vacation on the beach drinking Pina Coladas, eating local food and listening to the sounds of island music. Although the Virgin Islands are truly paradise vacation spots, they are not free from the impact of HIV/AIDS. The three islands of St. Croix, St. Thomas, and St. John are unique and face their own challenges with testing, diagnosis, and treatment.
Working in collaboration with the Virgin Islands Department of Health (VIDOH), Florida/Caribbean AIDS Education and Training Center (F/C AETC) administrators and faculty see the results of individuals accessing HIV care at a very late stage, primarily due to the perception that everyone knows each other or is related in some way. Hence they ask, "Why do I want to go to care when the person taking my sample or giving me my test results is the sister or cousin of my current or ex-partner?" How often is this close connection encountered on the U.S. mainland? Although they cannot be eliminated entirely, encounters with acquaintances on the U.S. mainland can likely be avoided by driving to the other side of town or going to another county.
It's easy to take a 20 minute boat ride from St. John (population of approximately 5,000), to St. Thomas (population of approximately 55,000), to get an HIV test. But many of the residents on the islands have relatives on sister islands, or know people who work for satellite sites on the other islands. Reportedly they say, "I'm not going there to get tested because as soon as someone sees me coming out of the clinic, they are going to think I have something."
The VIDOH Communicable Disease Program, under the leadership of Dr. Gritell Martinez, has been working to address the stigma associated with HIV testing sites on each island. Addressing and eliminating stigma to increase testing leads to the first step of in the HIV/AIDS treatment cascade: number of individuals diagnosed. A number of USVI residents, particularly those with insurance, travel to the U.S. mainland to get tested and treated, while those who do not have insurance fail to access care until they are really sick and need emergency room care. Ironically, St. Thomas and St. John are about a 50 minute boat ride away from the British Virgin Islands (BVI). As a result of this daily ferry service, many BVI residents travel to the USVI to access HIV treatment and care.
The F/C AETC continues to partner with the VIDOH, Federally Qualified Health Centers, hospitals, directly funded community based organizations, and other primary care providers to address the stigma associated with HIV testing. With technical assistance from F/C AETC faculty Dr. Jeffrey Beal, the VIDOH recently revised its testing rules and regulations to implement and encourage more routine HIV screening across healthcare systems as recommended by the CDCs HIV testing recommendations.
Some of the highlights in the revised VIDOH HIV testing regulations that will help to identify positive screenings and inform individuals of their status sooner are:
Health-care providers should subsequently test all persons likely to be at high risk for HIV at least annually.
Patients should be informed orally or in writing that HIV testing will be performed unless they decline (opt-out screening).
In the USVI, many providers do not see the need to perform routine HIV testing, and still follow the practice of requiring written consent. Dr. Tai Hunte, USVIDOH Communicable Disease Medical Director and F/C AETC faculty, supports the new regulations encouraging routine testing. Along with the new regulations, additional training will be provided to healthcare professionals to encourage more routine testing, regardless of risk factors. The VIDOH is in the process of finalizing the changes.
F/C AETC has also partnered with the Virgin Islands Department of Health Surveillance Department (VIDOHSD) to develop a cascade of care for the Virgin Islands. As we look at the current data, most of the components to develop an initial cascade are available but it is unclear if all agencies providing services are reporting accurately. F/C AETC and the VISOHSD will work to develop cascades specific to each agency providing services to HIV clients so that we can get a look at the prevalence of this disease - diagnosis to viral suppression.
As the VIDOH continues to make paradise a safe and healthy place for the residents and visitors of the Virgin Islands, F/C AETC will continue to provide support to ensure all the bars in the cascade of care are represented appropriately, reducing the transmission of HIV with the goal of zero new infections.
Photo credit: Jason Henry
Browse more by: