Image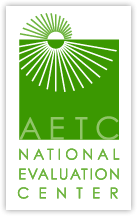 The new CDC funding (associated with CDC announcement PS 10-10138) provides support for AETCs to deliver training and technical assistance coordinated through funded health departments. Although local needs may differ across sites, regional evaluators have agreed on the measureable constructs below:
1. To count the number of trainings on HIV testing.
Participant Information Form (PIF) and Event Record (ER) data will be utilized to determine the number and intensity of training, in addition to the topics covered in trainings funded by the CDC.
2. To assess knowledge change.
The AETC Cross Region Evaluation Immediate-Post (ACRE IP) evaluation questions will be used for CDC funded testing trainings that fall under Levels I-III. The ACRE IP questions include items on knowledge change before and after training.
3. To assess behavior change.
The ACRE Follow-up (ACRE FUP) survey, which asks specific questions on practice behavior changes, will be used for CDC funded testing trainings that fall under Levels I-III.
Regional AETCs are providing capacity building assistance (CBA), defined typically as Level IV or V trainings, on HIV testing to varying degrees across the country. Some regions are conducting on-site, clinic-based CBA paired with evaluation assessments tailored to the local setting. Given that CBA might not be consistently offered (based on identified clinic needs) across AETCs, a flexible evaluation approach is needed to assess changes before and after CBA services are provided.
Our colleagues at HRSA and the AETC evaluation community came to agreement that the constructs below should be assessed at clinics receiving CBA.
To assess changes in policies and procedures.
To assess changes in frequency of HIV testing.
To assess changes in documentation of test offer, result disclosure.
To measure changes in linkage to care activities.
An organizational assessment was developed by the AETC NEC for use across regions, but this assessment should only be used at sites where intensive capacity-building assistance (levels IV & V) is being provided. Regions are encouraged to either fold in questions from the organizational assessment or collect data on the constructs outlined above.
How is your region planning to evaluate your HIV testing efforts? Is your region focusing on training or capacity-building assistance? How do you plan to measure the constructs above?
Browse more by: