iCare: Evaluating the Usability of iPad Minis in the Clinical Setting
Technology is great…when it works. This comes to mind when technology is supposed to enhance an experience but a malfunction causes that experience to cease. We know that technology should have the capacity to transform our lives, including our lives as HIV care providers. But in order for it to do so, it has to work. It has to be usable (i.e. easy, reliable, and fast). While iPad Minis have been on the market for several years now, a review of the literature yielded no current studies to examine their usability or effectiveness in clinical use.
The International Organization for Standardization (1994) defined usability as "the extent to which a product can be used by specified users to achieve specified goals with effectiveness, efficiency, and satisfaction in a specified context of use." Booth (1989) suggested that usability has four aspects, namely, (1) usefulness; (2) effectiveness; (3) learnability; and (4) attitude. Nielsen (1993), another usability expert, described five attributes, e.g., (1) learnability; (2) efficiency; (3) memorability; (4) low error rate or easy error recovery; and (5) satisfaction.
With a goal of evaluating the usability of tablet technology as an adjunctive clinical resource, the Rutgers School of Nursing, housing one of four federally funded HIV/AIDS Nurse Practitioner Educational Programs, is conducting a study of iPad Minis in the HIV care setting. Designed to train advanced practice nurses in the management and care of individuals living with HIV/AIDS and many of its co-morbidities, the program seeks to address the workforce shortage in HIV care providers.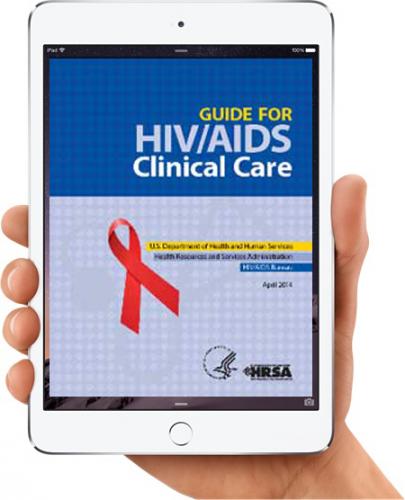 Students in the HIV Subspecialty at Rutgers rotate through a variety of HIV care sites and AIDS Service Organizations in addition to their long-term HIV-focused primary care clinicals, giving them both depth and breadth in their learning experiences. The iPad Minis were provided to students and preceptors pre-loaded with the following health information applications, texts and web resources that we consider to be useful to them during their clinical experiences:
Johns Hopkins Bundled Guides (ABX, HIV, Diabetes)
Association of Nurses in AIDS Care (ANAC) Core Curriculum
HIV Testing Sites and Care Services Locator
CDC STD Treatment Guide
Epocrates
Medscape
Lexicomp
Rutgers App
ICD9 Consult 2014
InPractice HIV
HRSA Guide for HIV/AIDS Clinical Care
Clinician Consultation Center
This usability study of the iPad Mini involves pre-implementation self-report by the students and preceptors regarding their qualitative perceptions of the usefulness, features, and role of the iPad Mini in their practice. Additionally, a self-report survey asking the participants their rating of certain usability measures using a 5-point Likert scale will also be conducted at the end of every semester during their course of study. The Likert scale survey will be used to evaluate the iPad Mini using the following criteria:
Portability (easy to carry, easy access, easy handling, easy connectivity)
Usefulness (efficiency and effectiveness, serves as tool for information seeking, all features facilitate one's role)
Learnability (easy to learn, intuitiveness, design lends for easy learning and use, navigation steps are easy to remember)
Functionality (includes most features required in current role, serves the purpose for which it was envisioned, easy navigation, less error or issues in its use)
Satisfaction (adaptability, supportiveness of their role, summative rating of all other criteria)

 
The study commenced in October 2014, and completion is anticipated in December 2016. The research team is comprised of Edmund Pajarillo, Associate Dean for Faculty and Staff Personnel Services; Suzanne Willard, HIV Subspecialty Director and Associate Dean for Global Health; John Nelson, AETC National Resource Center Program Director; and Anne Linn, HIV Subspecialty Coordinator.
Technology is great…when it works. In this study, we seek to evaluate where iPad Minis fall in the scheme of technology's potential to enhance and facilitate learning and practice.