Some Thoughts on Building Capacity for the AETC Practice Transformation Projects
While there are many unknowns about exactly what the AETCs will look like with the start of the new grant cycle later this year, one thing we do know is that Practice Transformation (PT) and Practice Facilitation will be a part of the work.  In fact about 40% of AETC resources will be devoted to the PT projects.  This is a new direction for the AETC and there are many unanswered questions about how this work will evolve.  As we move toward taking on this challenge some obvious questions arise: Why is Practice Transformation important?  What is PT and how can we learn about it?  How is PF different from the training we have always done in the AETCs?  How will we engage Community Health Centers?  As with most important questions, there are many possible answers.  In fact, finding your answers to these questions will be an important part of building capacity for the AETC to do this work.  I am sharing a few of my thoughts on some of these questions and would love to hear your thoughts as we move forward in this new direction.    
Why Should the AETCs Focus on Practice Transformation at This Point in the AIDS Epidemic?
In the past decades we have enjoyed many, many success in fighting the HIV epidemic highlighted by the development of effective medical therapies and effective medical care systems.  The AETCs have played a significant role in training providers and health care teams in meeting these challenges.  However we know from the HIV Care Continuum that there is still a lot of work to do for everyone to access the benefits of therapy and for our society to achieve an AIDS free generation.  We have to ask the question, will doing more of the same or doing what we do now a little better get us to our goal zero new infections?  Looking at the investments that have been made in HIV care, the large percentage of those infected who don't benefit from the current system and the profound disparities in who is left out, for me the answer to this question is no.  We will not get to our goal by doing more of the same; we have to do things differently. The most compelling reason for us to focus on practice transformation and supporting new models of care is that our current system isn't likely to reach and engage those who can't access the current system.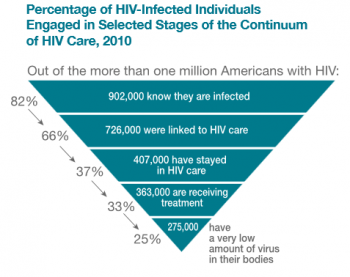 If we think about the Care Continuum from a patient's perspective, each step of the continuum represent actions patients have to take.   For someone to get to a suppressed viral load they have know their status which means they have to make the decision to get tested and to get the results.  Then they have to access care and stay engaged with that care.   They have to get laboratory studies done and return to a clinic to review labs.  They have to agree to start medications and be able to access a pharmacy to pick up medications on a regular schedule.  And, they have to take medications daily.  Imagine you are a single working mother with three children. What kinds of challenges would you face in our current health care system? Are there models of care that could be more accessible?  PT involves rethinking our care system from a patient's perspective and building systems of care that meet a patient where they are and partner with them to support their health.  To reach people out of care and those who struggle to stay in care, we need new, diverse, culturally informed, patient-centered and effective venues.  To get there, we have to make transformative changes to our care system.   
What is Practice Transformation? 
The Patient Centered Medical Home (PCMH) is the most influential and widely accepted model for practice transformation.1 This model is built on the four pillars of primary care (first-contact, continuous, comprehensive and coordinated care) and incorporates concepts from the Chronic Care Model like proactive teams working with informed and engaged patients.  Many practices around the country have made real progress in transforming in the direction of the PCMH.
Several recent publications have highlighted lessons learned from high-performing practices, a number of which include HIV care in their systems.  The Learning from Effective Ambulatory Practices (LEAP) is a Robert Wood Johnson Foundation project from the MacColl Center for Health Care Innovation that describes exemplary practices and summarizes lessons from 31 practices around the country.2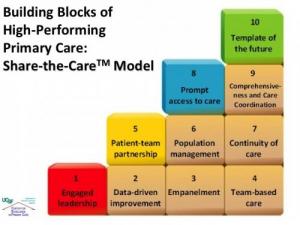 The Building Blocks of High-Performing Primary Care3 is a study of over 20 high performing sites that defined the 10 Building Block model of effective care systems. This model forms the foundation for the Practice Facilitation work at the Center for Excellence in Primary Care at UCSF.    http://cepc.ucsf.edu/
The Southcentral Foundation in Alaska supports an innovative health system that profoundly engaged the community in their transformation over the past several decades. https://www.southcentralfoundation.com/
It is inspiring to get a full picture of the innovations occurring in diverse care settings and worth getting to know some of these innovative practices to build a more complete picture of what Practice Transformation can look like. 
HIV has been a transformational force in our culture and in medicine.  As we think back on the history of AIDS, it is clear that health care and society have been transformed by our response to the epidemic.  Think about the patient empowerment movement in the early years of the epidemic, changes in the drug approval process, community engagement in research or addressing stigma and its impact on health.  All of these and many others have been transformative.  As the larger health care system struggles to build a more safe, effective, timely and patient-centered system of care, how can our experience with the HIV model of care support this broader transformation?  In the move toward Patient Centered Medical Homes, what do we have to offer and what can we learn?   These are the bigger questions we will get to answer as we move forward in the Practice Transformation Projects with the AETCs. 
McNellis RJ, Genevro JL, Meyers DS. Lessons Learned From the Study of Primary Care Transformation. Ann Fam Med

. 2013;11 (Suppl 1 ):S1-S5. 

Ladden MD, Bodenheimer T, Fishman NW, et al. The Emerging Primary Care Workforce. Acad Med

. 2013;88(12):1830-1834. 

Bodenheimer T, Ghorob A, Willard-Grace R, Grumbach K. The 10 building blocks of high-performing primary care. Ann Fam Med

. 2014;12(2):166-171. 
Steve Bromer, MD is a Clinical Professor in the Department of Family and Community Medicine at University of San Francisco, California. He is the Clinical Director of the Pacific AIDS Education and Training Center and a Co-investigator in the "System-level Workforce Capacity Building for Integrating HIV Primary Care in Community Health Care Settings," Special Projects of National Significance. He has an HIV practice in the Sebastopol Community Health Center, one of the medical practices evaluated in both the LEAP Project and the 10 Building Block study.
Browse more by: