Using Fellowships to Impact HIV Workforce Deficits
A critical shortage of practitioners who treat HIV/AIDS patients in the United States is on the horizon. According the American Academy of HIV Medicine 32% of today's HIV clinicians will stop providing care over the next 10 years. Nearly one-third of today's workforce will retire leaving a shortage unless new practitioners can be encouraged to replace them. The current HIV workforce is largely composed of medical providers who entered the field more than 20 years ago. Today, the HIV care system faces a crisis in care capacity as clinicians retire without replacements. Meanwhile, the number of people living with HIV in the U.S. continues to grow.
Increasing the number of qualified HIV providers is a process that requires years of targeted interventions. The practice of HIV medicine requires HIV expertise and primary care skills to address the co-morbidities that people with HIV develop as they live longer. Additionally, as treatments have moved to outpatient settings, residents have received less exposure to HIV patients. With the growing number of people living with HIV, a failure to promptly address HIV workforce issues could lead to gaps in the care system.
To mitigate the shortage of practitioners, the USC Pacific AIDS Education and Training Center has had two post-residency Fellowships each year since 2001, one emphasizing clinical HIV care in underserved communities, and the other focusing on correctional HIV care (USC HIV Fellowships). Based at the Los Angeles County+USC Medical Center, these yearlong Fellowships are a comprehensive training program in HIV medicine. The Fellowships are designed to impart the knowledge and skills necessary to provide expert HIV care to patients in all stages of HIV infection according to national HIV guidelines and practice standards. The Fellowships are very competitive, and each year many excellent candidates from across the nation apply (USC Fellowship Alumni Profiles)
The Corrections Fellowship in particular is a unique collaboration between the Los Angeles Sheriff's Department, and the Keck School of Medicine of USC. The program was first implemented in 2010, and trains physicians in the knowledge and skills necessary to provide expert HIV care for inmates within a correctional facility. This Fellowship is the only one of its kind in the nation. The primary goals are to increase the number of qualified HIV providers in the Los Angeles County Jail (LACJ) , improve the quality of patient care, and improve linkage to care upon release. The Fellowship was also designed to address patient movement within, and between, facilities at the LACJ; lack of confidentiality and privacy; fear of status disclosure; physician shortages; staffing challenges; increase identification of ARV regimens among newly incarcerated individuals; minimize duplication of tests in community and jail clinics; and explore potential linkages between the community and jail data systems.
Whereas training for the Corrections Fellow occurs primarily in the correctional setting, training for the Clinical Fellow occurs in the outpatient and inpatient medical settings. The Clinical Fellow receives hands-on experience in the medical management of persons living with HIV infection in all stages of disease from initial diagnosis to advanced treatment. Both fellows have the opportunity to participate in Pacific AETC educational endeavors and projects.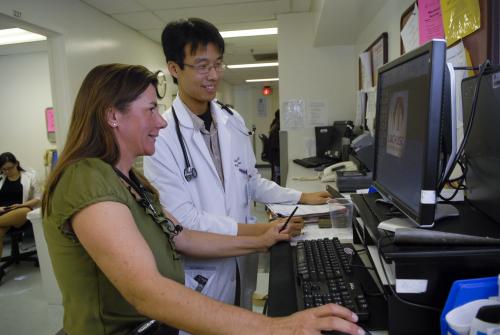 The Fellows work closely with USC faculty on diverse specialty rotations. In addition to primary care, the second through fourth quarters of fellowship training the fellows spend 1-3 months in sub specialty clinics where they learn HIV subspecialty knowledge and skills. In all of the primary care and subspecialty clinics, the fellows play a major role in increasing access to care, allowing availability for patients to be seen when needed, and increasing the quality of patient care. The fellows also improve continuity of care between the primary care provider and the subspecialists, since they are often available in both clinics, and can assure appropriate questions are being asked, and answered by the subspecialist. Once seen by the subspecialist, they act as a liaison to the primary care doctor. Finally, in the LAC jail, the fellow plays an important role in decreasing the wait time for incarcerated patients to be seen by an experienced HIV provider prior to their discharge from jail. They also act as a consultant to the intake doctors in the jail reception area, helping to ensure appropriate care while inmates await an HIV clinic.
At the completion of a 12-month intensive training program in HIV medicine, the fellows are able to: (1) demonstrate competency in providing comprehensive HIV primary care to patients in all clinical disease stages (2) coordinate care when specialty consultation is necessary (3) develop skills to effectively teach other medical professionals about HIV disease management; and (4) successfully complete the credentialing process for specialty certification in HIV medicine through the American Academy of HIV Medicine. The ultimate goal being to develop each HIV fellow as a strong HIV primary care physician and educator who will go on to work in underserved and indigent populations and who will become a leader in HIV workforce development within primary care training programs.
After entering the workforce, each Fellow participates in a longitudinal study of the effectiveness of the Fellowships. The Fellows are interviewed to collect information about their HIV/AIDS workload; patient demographics; work setting; and leadership roles. All former Clinical Fellows were interviewed. The results of the study show they: (1) are providing HIV care (2) primarily work with Ryan White funded agencies (3) primarily entered the workforce in Southern California, (4) are the only HIV provider at their agency, and (5) are in leadership positions. Similar results are expected from the Corrections fellows.
The data from the study of the Fellowships shows strong evidence for the effectiveness in producing a positive impact on the diminishing HIV/AIDS workforce. As such, we highly recommend that other programs across the nation adopt a similar model. To support this, funding agencies should allocate resources to this workforce development approach. If funding were available for fellowships would your organization have the structure to implement one?
Ms. Livermore graduated from Slippery Rock University with a B.S. in Health Science. She obtained a Certificate of Advanced Evaluation Studies and a Masters in Public Health, with an emphasis in global health program evaluation, from Claremont Graduate University (CGU). Ms. Livermore has worked in HIV/AIDS prevention research and evaluation for over 15 years starting at the California Department of Public Health, Office of AIDS. She completed an internship with the Riverside Department of Mental Health, Research and Evaluation Section, and was a consultant for Los Angeles schools on childhood obesity.

From 2012-2013 she served as a Program Manager at the Center for Health Justice for the Men in Life Environments (MILE) Project. This was an innovative and culturally congruent intervention. It was designed to reduce HIV risk-related behaviors and improve psychosocial outcomes in recently incarcerated African American men who have sex with men and women (MSMW). Currently, she serves as a Project Specialist and Evaluator at the University of Southern California (USC), Keck School of Medicine, Pacific AIDS Education and Training Center.

Ms. Livermore's specialties include HIV prevention program evaluation; project management; research with secondary needle exchanges; and mental health. Additionally, she has served as the Mentoring Committee Co-Chair for the Student Assembly of the American Public Health Association (APHA) and the CGU APHA campus liaison.

Ms. Livermore holds memberships with the American Public Health Association (APHA); APHA Student Assembly; Southern California Public Health Association; Society for Public Health Education (SOPHE); Southern California Chapter of SOPHE; American Evaluation Association; and the American Society of Tropical Medicine and Hygiene. Ms. Livermore a transdisciplinary-focused professional who strives to invoke the Zen Buddhist concept of Shoshi in her life. Shoshi, otherwise known as "beginner's mind" refers to having an attitude of openness, eagerness, and lack of preconceptions when studying a subject, even when studying at an advanced level, just as a beginner in that subject would.