2022 National Latinx Conference on HIV/HCV/SUD
Thursday, March 24, 2022 (All day) to Saturday, March 26, 2022 (All day)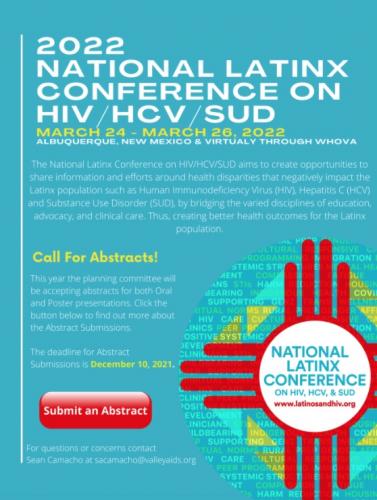 The 2022 National Latinx Conference on HIV/HCV/SUD will be a hybrid event taking place virtually and in Albuquerque, New Mexico. The conference aims to create opportunities to share information and efforts around health disparities that negatively impact the Latinx population such as HIV, hepatitis C, and substance use disorder, by bridging the varied disciplines of education, advocacy, and clinical care.
Abstracts for oral and poster presentations are now being accepted. The submission deadline is December 10, 2021. Contact Sean Camacho at [email protected] with any questions or concerns.
Conference registration and more information will be available soon.