Sunday, December 3, 2023 (All day) to Tuesday, December 5, 2023 (All day)
Image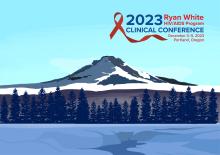 There is no registration fee to attend.
Description:
The 2023 Ryan White HIV/AIDS Program (RWHAP) CLINICAL CONFERENCE will be held in-person in Portland, Oregon, from Sunday, December 3, to Tuesday, December 5. The RWHAP CLINICAL CONFERENCE will provide state-of-the-art updates on research, care, and treatment issues in the medical management of HIV infection for experienced HIV clinical decision makers.
The 2023 RWHAP CLINICAL CONFERENCE is planned with and supported by the HIV/AIDS Bureau, Health Resources and Services Administration of the US Department of Health and Human Services (HRSA) and is organized and CME sponsored by the International Antiviral Society-USA (IAS-USA). This conference is coordinated through the RWHAP AIDS Education and Training Centers (AETC) clinician training network. A mix of lectures, case-based interactive presentations, and small-group workshop breakout sessions will be held during the 3 days of the 2023 RWHAP CLINICAL CONFERENCE.
Learning Objectives:
The educational objectives for the 2023 RWHAP CLINICAL CONFERENCE are designed and developed based on the identified needs and knowledge gaps of the attendees.
On completion of the 2023 RWHAP CLINICAL CONFERENCE, participants will be able to:
Describe the new aspects to the Ryan White HIV/AIDS Program
Identify situations in which the choice of antiretroviral regimen should consider particular clinical circumstances, such as comorbid conditions, coinfections, pregnancy, and issues in older patients
Describe the most current data on currently available and investigational new antiretroviral drugs, formulations, and strategies
Initiate and monitor HIV prevention intervention strategies, including the use of long-acting injectable preexposure prophylaxis (PrEP), in individuals at risk for HIV infection
Describe the current epidemiology, clinical presentations, and management of the most common sexually transmitted infections (STIs) in adults with HIV infection and in special populations such as adolescents
Detect and address practitioner and staff burnout
Describe the current best practices of postnatal HIV care and prevention, including issues around breastfeeding
Implement key primary care practices
Describe the implications of bNAbs vaccines for an HIV vaccine
Detect and manage opioid use disorder in people with HIV
Provide gender-affirming care to people with HIV
Address health disparities in disparate populations
Intended Audience:
Attendance is limited to HIV physicians, nurse practitioners, and physician assistants in Ryan White HIV/AIDS Program (RWHAP)-funded clinics and programs (specifically for in part A, B, C, and D), who functions as medical director of their clinic. As we are not sure what the status of the COVID-19 pandemic will be in December, we are planning for distanced seating in the main meeting space. This will limit the number of attendees we can accommodate to ensure the health and safety of our attendees. The first 300 registrants will have access to seating in the main meeting room. The next 100 registrants will be in the overflow seating outside the main meeting room, but will still have access to breakout sessions and networking opportunities. At this point, given the limited attendance, there will be a limit on how many can attend from each institution or clinic.
The 2023 RWHAP CLINICAL CONFERENCE will offer limited number of registrations for RNs and PharmDs who are the primary clinical decision makers/medical directors in their RWHAP-funded clinics or programs.
Browse more