Sunday, February 19, 2023 (All day) to Wednesday, February 22, 2023 (All day)
Image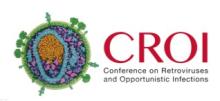 The 30th Conference on Retroviruses and Opportunistic Infections (CROI) will be held from February 19 to 22, 2023, and is currently planned as an in-person conference in Seattle, Washington, with an option for virtual participation for most sessions. CROI presents the latest research in HIV, hepatitis viruses, SARS-CoV-2, and other viral infections and their related conditions. Research that has not been published or presented at a large HIV or SARS-CoV-2 conference prior to CROI will be eligible for inclusion at CROI, the world's foremost conference of its kind.
Attendance is prioritized for active researchers and authors of accepted abstracts. Authors of accepted abstracts are preapproved for registration. All other researchers and academics must complete the application process.
Visit the conference website for information about registration, abstracts, scholarships, presenters and more.
Browse more
Event Location: State/Territory
Event Location