Tuesday, August 30, 2022 - 8:30am EDT to Tuesday, August 30, 2022 - 4:30pm EDT
Image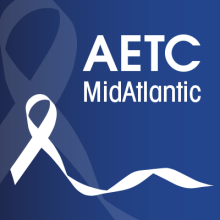 The MidAtlantic AETC, STD/HIV Prevention Training Center at Johns Hopkins and the Central East Addiction Technology Transfer Center collaborative is hosting a hybrid event in support of the Ending the HIV Epidemic initiative. Topics of discussion include
Syndemics of HIV
Communication skills and best practices
Harm reduction
STI, HCV screening and integrating in primary and HIV care
Substance use disorder screening
Mental health screening for suicide
Information on screening will also include an introduction to intervention best practices. Register for in-person or virtual attendance.
Four webinars focusing on frontline workers will be presented prior to this event:
The conference series will conclude with a virtual event on September 8th to discuss logistics and administrative issues in implementing strategies from the conference. Registration link will be available soon.
Address
Pittsburgh Marriott North
Cranberry Woods Business Park, 100 Cranberry Woods Dr
Cranberry Township, PA 16066
Browse more
Event Location: State/Territory
Event Location