Wednesday, August 31, 2022 (All day) to Friday, September 2, 2022 (All day)
Image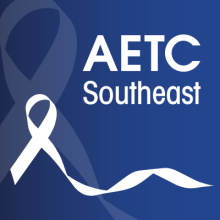 CE credit may be available.
Description:
August 31 - September 2 join the Southeast AETC for the SE AETC's 2022 Regional Conference!
For two and a half days, we'll offer the chance to increase your knowledge in the areas of HIV care and service implementation, connect virtually with other care professionals around the region, while earning up to 13 CE credits for your participation. This event is free and open to all healthcare professionals.
Attend talks on topics in the cutting edge of HIV care across three different educational tracks: Fundamentals, Advanced, and Wrap-around Services, presented to you by dynamic and experienced faculty and staff of the SE AETC's partner sites and HIV experts across the country.
The Fundamentals track will build a clinical foundation for primary care providers and clinicians new to HIV through programs that discuss delivering HIV test results, prescribing PrEP, and what you can do to reduce HIV stigma.
The Advanced track, including topics of current interest to the experienced HIV provider, will feature talks on injectable ART, drug-drug interactions, HIV/HCV coinfection, and more.
The Wrap-around Services track will outline best practices for implementing HIV support services in your work, including how to create HIV wrap-around programs like syringe exchange programs, behavioral health, specialized transgender care, and more.
For any information contact: 615-875-3943; Email: [email protected]
Browse more
Event Location: State/Territory
Event Location