Image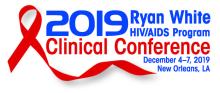 Watch recordings from the annual Ryan White HIV/AIDS Program (RWHAP) Clinical Conference. Leading clinician educators cover both fundamentals and emerging topics in HIV care.
Most presentations are geared toward experienced HIV clinical decision makers in RWHAP-funded clinics and programs.
Presentations
See all available presentations using the playlist icon (three lines) in the upper right portion of the screen below, or view the entire playlist on the AETC NCRC YouTube Channel.
Browse more