Image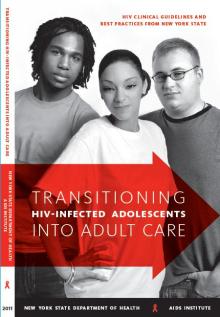 From the Introduction:
As HIV-infected adolescents grow into adulthood, it becomes necessary for them to transfer to adult care settings and take responsibility for their own health and disease management. Transition in this setting can be defined as "a multifaceted, active process that attends to the medical, psychosocial, and academic or vocational needs of adolescents as they move from the child- to the adult-focused healthcare system. Health care transition should also facilitate transition in other areas of life as well (e.g., work, community, and school)" [Reiss and Gibson 2002].
The American Academy of Pediatrics defines adolescence as 13 to 21 years of age. The recommendations in this chapter pertain to both adolescents and young adults because many pediatric and adolescent clinicians follow HIV-infected patients from 13 to 24 years of age.
This guideline has been developed to assist care providers with the transition process to ensure that HIV-infected young adults are successfully and seamlessly integrated into an adult care setting. Recommendations are meant to serve as a guide and will need to be tailored to the individual patient.
Browse more