Image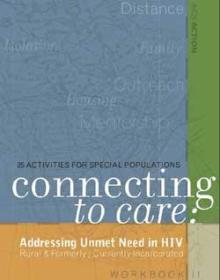 Summary prepared by the AETC Engagement in Care Workgroup
Description
Demographically-related peers or lay health workers function in a complementary capacity with clinic staff to assist patients access, and engage in, medical and supportive services while working to address patients' knowledge, communication and literacy gaps, and enhance health-promoting behaviors.
Strengths
Principles of patient navigation are rooted in community (lay) health worker and peer-based intervention strategies;
methodology of patient navigation is well described in the non-HIV literature and has been incorporated into a number of disease prevention and management models, including those for cancer, diabetes, asthma, CVD, and maternal and child health. In the context of HIV, longitudinal data from a HRSA SPNS demonstration grant (Bradford, 2007) found improved engagement in care and viral load suppression associated with patient navigation.
Patient navigation can be implemented by a clinic or in collaboration with community-based service organizations; can also be tailored to site-specific needs and resources.
Challenges
Limited prospective evaluations and/or cost-benefit analyses of patient navigation for any disease, particularly related to morbidity and mortality outcomes.
Reimbursement sources may be limited.
Patient navigator responsibilities that overlap with other clinic staff may create confusion and billing difficulties.
Lack of standardized training programs for navigators.
Resources Required
Senior clinic leadership support.
Full integration of patient navigation in to outcomes planning and strategies.
Development of navigator training programs and mechanisms for ongoing evaluation of fidelity and outcomes.
Coordination of staff and/or collaboration with community-based service organization to provide adequate training for patient navigators.
Training of existing clinic staff.
Model Programs
Evidence
Lewin S., Munabi-Babigumira, S., Glenton, C., Daniels, K., Bosch-Capblanch, X., van Wyk, B.E., Odgaard-Jensen, J., Johansen, M., Aja, G.N., Zwarenstein, M., Scheel, I.B. (2010). Lay Health Workers in Primary and Community Health Care for Maternal and Child Health and the Management of Infectious Diseases. Cochrane Database of Systematic Reviews, 3, 1-85.
Viswanathan, M., Kraschnewski, J., Nishikawa, B., Morgan, L.C., Thieda, P., Honeycutt, A., Lohr, K.N., Jonas, D. (2009). Outcomes of Community Health Worker Interventions: Evidence Report/Technology Assessment No. 181. Triangle Park, NC: RTI International University of North Carolina Evidence-based Practice Center.
Tools
Browse more