Image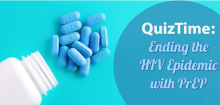 CE credit may be available:
See
for information.
(Available from 1/1/2022 to 6/30/2022)
This 18-question quiz covers important aspects of pre-exposure prophylaxis (PrEP) to prevent HIV.

QuizTime delivers one multiple choice question each weekday to your mobile device or computer. As soon as a response is submitted, the system provides the correct answer and a concise rationale. For those who are eligible, completion of this quiz (engaging with at least 80% of the questions) will provide 3.5 AMA PRA Category 1 CME credits.
Target Audience:
Clinical Providers (MD, PA, NP, PharmD, etc)

Browse more