Image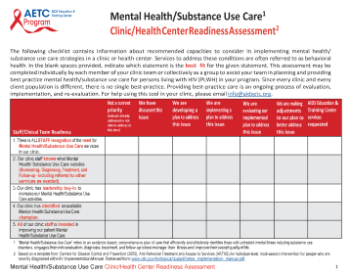 These resources were developed and compiled by the AETC Mental Health Committee in 2014-2015.
Contributing members of the AETC Mental Health Committee include: Jenna Kah Bardwell, Marla Corwin, Francine Cournos, Linda Rose Frank, Melissa Grove, Lawrence McGlynn, Karen McKinnon, Phil Meyer, John Nelson, Michael Noss, Sanjay Sharma, and Debbie Cestaro-Seifer.

A training exchange was held on June 2, 2015, to introduce these tools. The recording from the training exchange is available.
Toolkit Components
See also the AETC NCRC Resource Library Mental Health Topic Page
Introductory Video
Successful integrated healthcare relies primarily on the teamwork of three professionals: primary care clinicians, behavioral health clinicians, and care managers/coordinators. In order to address both the physical and mental health needs of patients, this team must work collaboratively with patients to address, problem-solve and implement effective solutions to improve health outcomes and satisfaction. This holistic care approach is best performed when the care team communicates well, works to maximize individuals' strengths and styles, and negotiates leadership roles over time to best target various elements of a care plan. In this brief video from AHRQ, Dr. Frank DeGruy, MD, MSFM discusses communication and the team-based approach and the AHRQ's learning portal for integrated care.