Image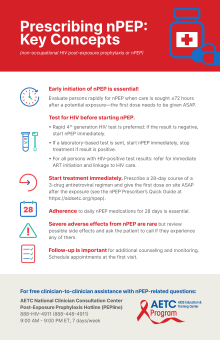 nPEP = Non-occupational HIV Post-Exposure Prophylaxis
Early initiation of nPEP is essential
Evaluate persons rapidly for nPEP when care is sought ≤72 hours after a potential exposure—the first dose needs to be given ASAP.
Test for HIV before starting nPEP
Rapid 4th generation HIV test is preferred: if the result is negative, start nPEP immediately.
If a laboratory-based test is sent, start nPEP immediately, stop treatment if result is positive.
For all persons with HIV-positive test results: refer for immediate ART initiation and linkage to HIV care.
Start treatment immediately
Prescribe a 28-day course of a 3-drug antiretroviral regimen and give the first dose on site ASAP after the exposure (see the nPEP Prescriber's Quick Guide).
Emphasize adherence
Adherence to daily nPEP medications for 28 days is essential.
nPEP is generally well tolerated
Severe adverse effects from nPEP are rare but review possible side effects and ask the patient to call if they experience any of them.
Schedule follow-up
Follow-up is important for additional counseling and monitoring. Schedule appointments at the first visit.
References and Resources
Documents with preview
Browse more