Imagine living in a state with the second highest rate of chlamydia and the third highest rate of congenital syphilis infections in the United States (U.S.) in 2018. Our first thought was how can this be, and our second thought was what can we do to overcome this? When we looked at the 2019 U.S. Centers for Disease Control and Prevention (CDC) data, Louisiana ranked third highest for chlamydia rates and fifth-highest for congenital syphilis infection rates. Between 2018 and 2019, our numbers improved slightly but not enough. Louisiana needed to implement an effective strategy to improve screening, testing, and treatment for sexually transmitted infections (STIs) within our rural and urban communities. Rural areas are especially challenging due to the lack of transportation, limited resources, and increased stigma. Patients fear being recognized and judged by community peers and fear provider perceptions and how that will affect the provider's future care. As an agency that serves rural parishes (Allen, Beauregard, Calcasieu, Cameron, and Jeff Davis), it has been a constant battle to combat and overcome these difficulties.
When Rutgers University selected the Southwest Louisiana AIDS Council to be one of nine clinical demonstration sites for the HRSA SPNS project for Improving STI Testing and Treatment among People with and at Risk for HIV, we knew that this would be a chance to give our patients in rural communities a voice in their healthcare. By creating a more welcoming clinic environment, offering clients the option to do specimen self-collection for gonorrhea and chlamydia, increasing our providers' knowledge through additional training, and utilizing an audio computer-assisted self-interview (ACASI) sexual history with patients at each clinic visit, we wanted to see if STI screening, testing, and improvement improved. An unexpected result was a shift in patient empowerment through engagement and health education.
At the end of 2019, our plan for improving STI testing and screening outcomes did not include the COVID-19 pandemic, two major hurricanes, an ice storm, and two floods. Our region was devastated by a global pandemic and five natural disasters within less than a year. No one can prepare for that, but we survived and are stronger for going through the unimaginable while simultaneously addressing the COVID-19 crisis.
March 2020 - COVID-19: We prepared to shut down temporarily, which meant our agency had to revise the initial plan for implementing the STI SPNS interventions into our healthcare setting. Despite the turmoil we were all experiencing, through teamwork and perseverance, we were still able to launch the project in April 2020. Having never used a telehealth system as part of our operations, we implemented a telehealth infrastructure which consisted of telehealth and telephone visits, downloading an app on our patients' phones to access telehealth visits, getting email addresses from all patients, creating electronic formats for Patient Privacy Acts and consents for telehealth while implementing ACASI sexual health histories with all the patients. We learned a lot in this short period, but the most important lesson was the power of teamwork. Our providers and nurses wore pronoun pins during telehealth visits to promote inclusivity, and our staff placed sexual and gender minority flags for patients to see while working remotely. We utilized in-person lab visits for patients to complete ACASI sexual health and patient satisfaction survey instead of during medical visits, which occurred via telehealth 1-2 weeks after the lab visit. We decreased our in-clinic staff so patients would feel comfortable and safe when attending lab visits.
August 2020 - Hurricane Laura: Our area was hit by a category 4 storm, though some would argue it was category 5 due to the extraordinarily high winds and storm surges. While managing clinic shutdowns due to COVID exposures, staff and supply shortages, and limited appointment availability, we were now faced with new adversities: displaced staff and patients, clinic closures, no water, and no electricity (the entire electrical grid of Lake Charles and surrounding towns was destroyed), no internet, loss of homes, food supply shortages, lack of transportation due to city transportation closure, overwhelming stress, and increased depression and anxiety. This nightmare was our reality but through teamwork and the commitment of our staff, we persevered. Staff sat in their vehicles at hotels, drove miles to find internet and cell phone service, and reached out to outside pharmacies so we could continue to give patients telehealth services, privacy, and access to their meds. About 6 weeks after the hurricane, we began rebuilding our city, and life was coming back into our towns and communities.
October 2020 - Hurricane Delta: What we started to rebuild came crashing down again. Sadness seemed to overwhelm us, but our patients needed us because they did not have others to lean on (many of our patients were disowned by their families due to having HIV). We fought back once again, remembering why we chose the jobs we did. In early November the repairs to our clinic were completed, and our doors were open again. The STI SPNS project was underway yet again.
February 2021 - Ice storm: We could not have imagined that another natural disaster would hit us, but alas, a record low winter freeze left many without power and heat, clinics closed, and appointments rescheduled once again. A week later, our town, community, and agency were up and running, but we braced ourselves for what could be coming next. Anything was possible at this point.
Image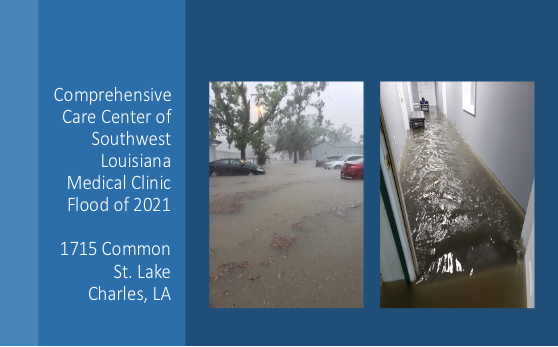 Spring 2021 - Flood Rains: We experienced another massive blow to our community with floods on May 17 and June 3. The first flood left many stranded, homes and businesses underwater, and roads impassable within minutes. Our agency buildings where our clinic (lab, testing, pharmacy, and exam rooms) and Wellness Center are located took on over a foot of water. Again, clinics closed, appointments rescheduled, and homes destroyed. If the previous disasters did not get us down, then nothing would. We packed up what we could, relocated our lab, and completed the project surveys in another location. We learned some tough lessons throughout the year, but there was something that always managed to shine through all the difficult times: hope. We learned just how resilient we were and the importance of working together. We learned what it meant to be a team.
Our agency was determined to get the data we needed to improve our rural community's STI screening, testing, and treatment. At the end of the STI SPNS project, we were able to submit essential data to contribute to the larger evaluation of utilizing the interventions to improve STI health outcomes in three U.S. jurisdictions. We found that most patients liked having the support and autonomy to complete their sexual history (using the ACASI survey) and self-collect gonorrhea and chlamydia swab specimens for extragenital site testing. On the other hand, providers were impressed with the information provided by patients in the sexual history survey and the number of asymptomatic positive bacterial STI results identified because of these interventions.
Image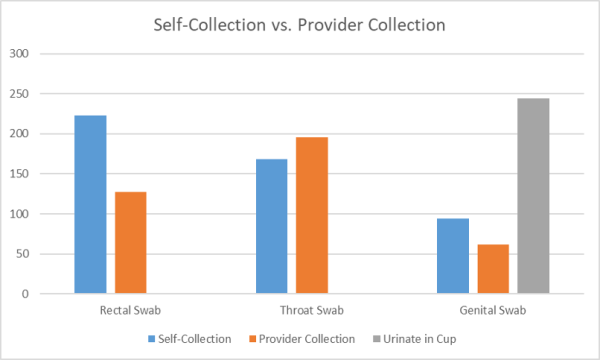 Overall, the patient responses to satisfaction with the extragenital site chlamydia/gonorrhea specimen collection were mostly positive:
It is very uncomfortable having someone look at your body parts even for medical exams.
If I can remember correctly, I have had someone do the swab and have also done it myself. When comparing, I feel it's a task I can handle.
I am comfortable doing it myself, because I would feel weird making a nurse anal swab me.
If I am shown how to do it the right way, I feel comfortable doing it.
I don't want a woman to do it and I don't want anyone to hurt me while doing it.
It was easier than I thought, and I did not have someone looking at my bottom.
The ACASI was an effective tool for collecting a sexual history at each visit:
I like this way. It made me feel very comfortable, but I do understand some people may have problems with the computer. Great addition to the clinic!
Sometimes in this field of work, there are different health care workers and I rather answer the question on the computer.
Sometimes its busy and someone may be in the room next to you. The walls are very thin. This way makes it comfortable.
I really like doing my sexual health and question this way. It's more comfortable and don't have to feel embarrassed or judged.
By creating a private and welcoming clinic, and providing care with kindness and compassion, love will always prevail no matter the adversity faced. Patients have stated, "I love the idea of having a place that is providing services to me, and will not judge me based on my way of life and choices that I have made," and "I've tried other organizations since my diagnosis... I decided that this organization and, more importantly, the staff and team here are irreplaceable and incomparable in their care, love, and dedication to me as a patient and as a human." These comments remind us why we are fighting to improve healthcare for all.
Browse more by: