National Alliance of State & Territorial AIDS Directors' (NASTAD) Center for Innovation and Engagement (CIE)
As public health professionals, educators, and HIV care providers, it is imperative that we develop truly innovative approaches to address the health and social needs of communities and advance health equity. NASTAD, a leading non-partisan non-profit association that represents public health officials who administer HIV and hepatitis programs in the U.S, is committed to dismantling systemic barriers to care, recognizing social justice as a vital tool in our mission to end the intersecting epidemics of HIV, hepatitis, and other related conditions.
To achieve this goal, linkage, re-engagement, and retention in care are essential. There's no need to reinvent the wheel: as the COVID-19 pandemic has shown us in myriad ways, historical knowledge is an invaluable asset for public health – and when it comes to HIV care, there is a wealth of knowledge and years of interventions to revisit. Ryan White HIV/AIDS Program providers are uniquely positioned to consider the replication of these interventions to enhance care outcomes of people with HIV.
Over the last three years, NASTAD has worked with Northwestern University's Center for Prevention Implementation Methodology and Howard Brown Health to tap into this collective knowledge. The Center for Innovation and Engagement (CIE) is a HRSA Special Projects of National Significance (SPNS)-funded collaboration that identifies and catalogs evidence-based (EB) and evidence-informed (EI) interventions, and transforms them into actionable tools, innovative frameworks, and adaptable resources for engaging and retaining people in HIV care.
The recently launched CIE website details the process of identifying and cataloging these interventions and serves as a resource inventory that supports real-world replication. The Interventions section houses implementation guides and background summaries based on EB/EI interventions that were vetted by researchers and public health professionals. This section provides 14 "ready to replicate" interventions for clinicians looking to integrate new approaches to support people with HIV. The CIE website also features the Innovations Lab, which highlights tools to help providers innovate while they replicate, such as tip sheets, blogs, and a cost calculator. Resources are also available on https://targethiv.org/CIE.
The development of CIE is a result of a rigorous three-year process. Throughout this time, NASTAD collaborated with external partners to:
identify EB/EI interventions; gather information from intervention developers and program staff through in-depth key informant interviews;
weigh the level of evidence through an evidence rubric;
assess replication feasibility; and
package the data gathered into replicable tools.
The diagram below depicts this journey.
Markup
Development of the Center for Innovation and Engagement (CIE) Resources
Image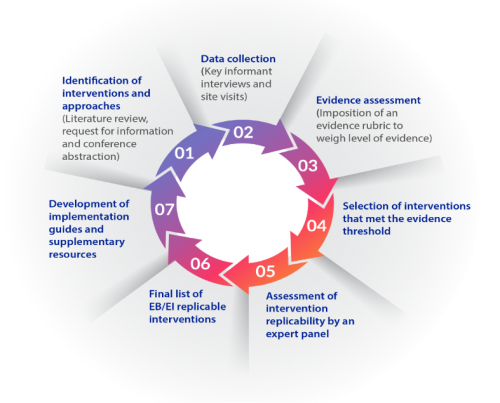 For example, the Bilingual/Bicultural Care Team intervention is a service delivery model based out of Kansas City, MO aimed at increasing retention in care and viral suppression for people with HIV who identify as Hispanic/
Latinx and speak Spanish as their primary language. The intervention featured Latinx providers who provided comprehensive culturally and linguistically responsive HIV primary care and services to the client population, highlighting the efficacy of engaging with most impacted communities in ways that suit their needs.
We invite you to explore the other interventions currently detailed on the CIE website and join our listserv to be the first to know about the additional interventions, implementation guides, and supplementary resources. Check out our CIE welcome video to get started exploring.
CIE is a HRSA Special Projects of National Significance (SPNS)-funded project that identifies, catalogs, disseminates and supports the replication of evidence-informed approaches and interventions to engage people with HIV who are not receiving care, or who are at risk of not continuing to receive care.
Browse more by: