Tuesday, April 18, 2023 (All day)
Image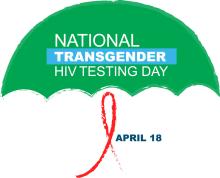 Tuesday, April 18 is National Transgender HIV Testing Day (NTHTD), an observance designed to recognize the importance of routine HIV testing, status awareness and continued focus on HIV prevention and treatment efforts among transgender people. The observance is organized by the Center of Excellence for Transgender Health.
In the United States, it is estimated that around 1.4 million adults identify as transgender. Transgender women are at high risk of having HIV and of contracting HIV. Transgender women of color, especially black/African American and Hispanic/Latina women, experience disproportionately high rates of HIV. There is a gap in research on HIV and transgender men; few studies have gathered HIV prevalence data for this population.
Visit the Center of Excellence for Transgender Health for a NTHTD toolkit and campaign materials.
Browse more
Event Location: State/Territory
Event Location