Image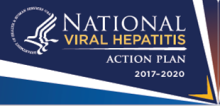 The National Viral Hepatitis Action Plan (2017-2020) [PDF - 84 pages] is our nation's battle plan for fighting viral hepatitis in the United States. The updated plan outlines strategies to achieve four major goals and includes indicators to help track progress between now and 2020. The goals are:
Goal 1: Prevent new viral hepatitis infections
Goal 2: Reduce deaths and improve the health of people living with viral hepatitis
Goal 3: Reduce viral hepatitis health disparities
Goal 4: Coordinate, monitor, and report on implementation of viral hepatitis activities
The Action Plan was developed collaboratively by representatives from 23 federal departments, agencies, and offices with recommendations provided by states, counties, Tribes, cities, and organizations around the country. It recognizes that success cannot be achieved by federal action alone but requires the support and commitment of a broad mix of nonfederal stakeholders from various sectors, both public and private.
Browse more