Image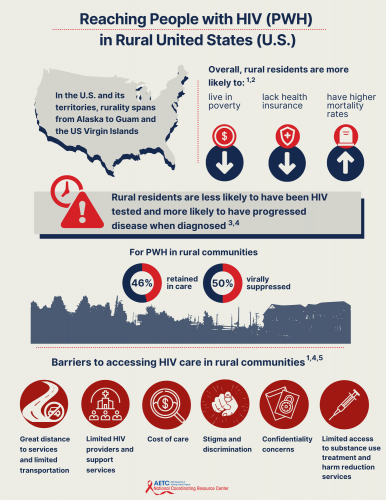 Infographic illustrates some of the challenges providing HIV care in rural U.S. and offers strategies to address barriers associated with treating people with HIV in rural communities.
Infographic References
Rural Health Association. About Rural Health Care. Accessed December 2, 2021
Cross SH, Califf RM, Warraich HJ. Rural-Urban Disparity in Mortality in the US From 1999 to 2019. JAMA. 2021;325(22):2312–2314. doi:10.1001/jama.2021.5334
Nelson JA, Kinder A, Johnson AS, Hall HI, Hu X, Sweet D, Guido A, Katner H, Janelle J, Gonzalez M, Paz NM, Ledonne C, Henry J, Bramel T, Harris J. Differences in Selected HIV Care Continuum Outcomes Among People Residing in Rural, Urban, and Metropolitan Areas-28 US Jurisdictions. J Rural Health. 2018 Dec;34(1):63-70. doi: 10.1111/jrh.12208. Epub 2016 Sep 13. PMID: 27620836.
Pellowski JA. Barriers to care for rural people living with HIV: a review of domestic research and health care models. J Assoc Nurses AIDS Care. 2013;24(5):422-437. doi:10.1016/j.jana.2012.08.007
Rural Health Information Hub. Healthcare Access in Rural Communities. Accessed December 2, 2021
Rural Health Information Hub. Telehealth and Use of Technology to Improve Access to Care for People Living with HIV/AIDS. Accessed December 2, 2021
Rural Health Information Hub. Rural HIV/AIDS Prevention and Treatment Toolkit. Accessed December 2, 2021
National Advisory Committee on Rural Health and Human Services. HIV Prevention and Treatment Challenges in Rural America Policy Brief and Recommendations to the Secretary. (May 2020). U.S. Dept. of Health & Human Services, Health Resources and Services Administration.
Documents with preview
Browse more