Image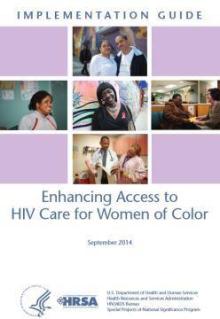 The guide synthesizes lessons learned from the federally funded Special Projects of National Significance (SPNS) Enhancing Access to and Retention in Quality HIV Care for Women of Color (WOC) Initiative. It is meant to inform the development of new programs, but also to assist organizations in improving existing efforts.
Target audiences include all Ryan White HIV/AIDS Program grantees and other service providers, whether they are AIDS service organizations, community-based organizations, health departments, or clinical settings such as physician practices, hospitals, or health clinics. The guide contains real-world insight about effective interventions and best practices from the 10 grantees involved in the WOC Initiative.
Main sections comprise the following:
Risk factors and barriers to care
Planning and implementation steps to follow
Lessons learned from across grantee sites
Training resources
Sample tools and templates
The SPNS WOC Initiative has directly improved the health and well-being of women with HIV. Along the way, the WOC grantees gained new capabilities that they can use to help other patients in similar circumstances. This IHIP implementation guide offers lessons learned and strategies gleaned from those experiences, thus enabling others to replicate this important work.
Browse more