Image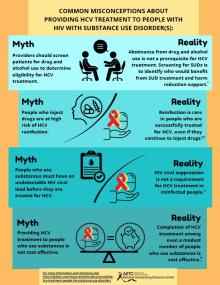 HCV treatment is recommended for ALL people with HCV, with rare exceptions1, and substance use is NOT a contraindication to HCV treatment. In people with active substance disorder, treatment of HCV results in high rates of HCV cure and low rates of reinfection.2 However, provider myths regarding patient readiness and the cost-effectiveness of care present challenges and can delay initiation of HCV treatment and care. This infographic identifies common misconceptions associated with treating HCV in substance users with HIV. The resource is available as a flyer and training slide set.
---
1. The American Association for the Study of Liver Diseases and the Infectious Diseases Society of America Present HCV Guidance: Recommendations for Testing, Managing, and Treating Hepatitis C. Key Populations: Identification and Management of HCV in People Who Inject Drugs. https://www.hcvguidelines.org/unique-populations/pwid
2. Norton BL, Fleming J, Bachhuber MA, Steinman M, DeLuca J, Cunningham CO, et al. High HCV cure rates for people who use drugs treated with direct-acting antiviral therapy at an urban primary care clinic. International Journal of Drug Policy. 2017;47:196-201.
Browse more