AETCs and the Ending the HIV Epidemic Initiative
The Ending the HIV Epidemic (EHE) initiative is focusing on the approximately 50 jurisdictions (cities, states, and counties) where new HIV infections are most concentrated. These are shown below.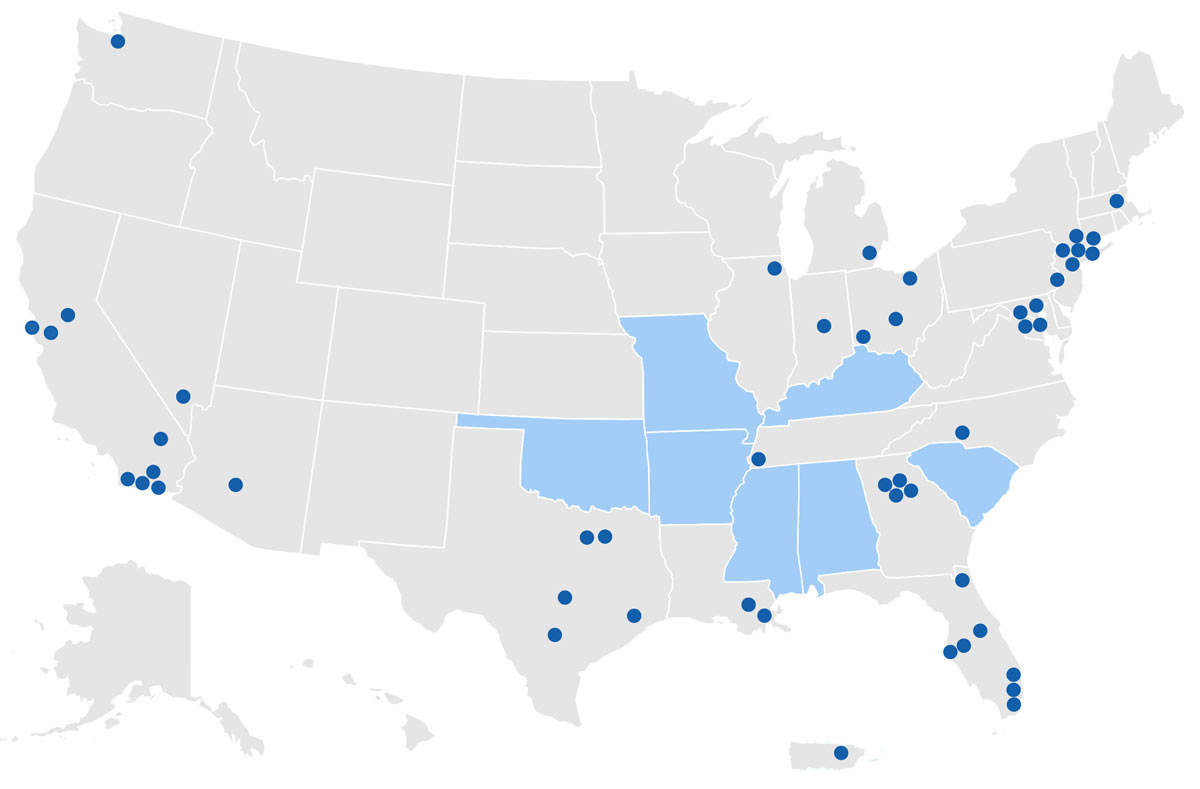 Each of the eight AETC regions has at least one EHE participating jurisdiction, listed below. The regional AETCs will support EHE activities in their regions with targeted training and technical assistance.
MidAtlantic AETC
Maryland
Baltimore City
Montgomery County
Prince George's County
Pennsylvania
District of Columbia
Midwest AETC
Illinois
Indiana
Michigan
State of Missouri
Ohio
Cuyahoga County
Franklin County
Hamilton County
Mountain West AETC
Washington
New England AETC
Massachusetts
Northeast/Caribbean AETC
New Jersey
Essex County
Hudson County
New York
Bronx County
Kings County
New York County
Queens County
Puerto Rico
Pacific AETC
Arizona
California
Alameda County
Los Angeles County
Orange County
Riverside County
Sacramento County
San Bernadino County
San Diego County
San Francisco County
Nevada
South Central AETC
State of Arkansas
Louisiana 
East Baton Rouge Parish
Orleans Parish
Oklahoma
Texas
Bexar County
Dallas County
Harris County
Tarrant County
Travis County
Southeast AETC
State of Alabama
Florida
Broward County
Duval County
Hillsborough County
Miami-Dade County
Orange County
Palm Beach County
Pinellas County
Georgia
Cobb County
DeKalb County
Fulton County
Gwinnett County
State of Kentucky
State of Mississippi
North Carolina
State of South Carolina
Tennessee